Tired of eating your pancakes dense and bland? The reason your pancakes turn this way likely is that they have gone cold. So you probably ponder about things like how to keep pancakes warm; if that is the case, then keep reading because we'll tell you about different ways in which you can successfully avoid your pancakes from going cold.
Everyone loves delicious and fluffy pancakes. However, their texture is only like this when they've just cooked. And sometimes, for whatever reason, you can't always enjoy them right out of the pan. So what do you do when you can't eat them right away? You look for ways on how to keep pancakes warm.
By now, you've probably realized that pancakes only stay warm for a concise amount of time, so you need to act fast. It may sound a bit complicated investing a little more effort in keeping pancakes warm, but after that first bite, you'll realize it was totally worth it. Learn about different ways on how to keep pancakes warm for as long as possible.
FAQ's
How to cook tasty pancakes?
To cook tasty pancakes, follow the next recommendations:
First, you need to make sure your pancakes are made with fresh ingredients. While eggs and milk might have a more obvious expiration date, ensuring your leavening agent, baking powder, is fresh is important in creating this fluffy breakfast dish.
One of the most difficult aspects of making pancakes is creating a well-shaped circle. A good tip is to use an ice cream scoop to measure the batter and place it onto the hot griddle.
While your fluffy pancakes cook, avoid pressing them down; otherwise, you'll vanish the natural air pockets, which are essential to producing a light and airy pancake.
What is the right temperature to keep pancakes warm?
Keep pancakes warm by placing them on a baking sheet or oven-safe platter in a 200-degree oven until you're ready to serve them. This temperature will keep the pancakes warm without continuing to cook them too much.
Is aluminum foil a good option to keep pancakes warm?
While the first thing that comes to mind is using aluminum foil, this might not work as you expect. While you only need to spread pancakes on a plate and use aluminum foil to cover them, making it a fast and convenient option, aluminum foil isn't the preferred option for many.
The reason is that aluminum foil will trap all the steam inside, making it condensate and dripping all over the pancakes. In the end, you may get warm pancakes, but they will also be mushy pancakes.
Do pancake warmers really work?
In case you didn't know, there is actually a kitchen gadget called a pancake warmer. And as its name suggests, people use this tool to preserve pancakes™ temperature. It looks like a stew pot made of ceramic with several holes on the lid. This way, the steam can evaporate, saving your pancakes from being soggy.
However, most of the time, the pancakes can retain their texture yet totally lose heat. Thus, a pancake warmer is more suitable for serving pancakes than keeping them warm.
Outset Cast Iron Multi-Purpose Pot, Tortilla, and Pancake Warmer
This cast iron pot doubles as a Dutch oven or round griddle, perfect for cooking chicken casserole, stew, biryani, pancakes, and even sourdough bread.
3-quart capacity cast iron is the perfect cookware accessory to accompany your tortilla press, used in place of a cast iron griddle or cast-iron skillet to cook and serve warm tortillas, pancakes, and flat breads and more.
Attractive faceted hexagonal accents with a premium acacia wood knob, ideal shape to use as a tortilla warmer, pancake warmer, keep flatbread, naan, roti, pita, or pancakes insulated, warm, and protected.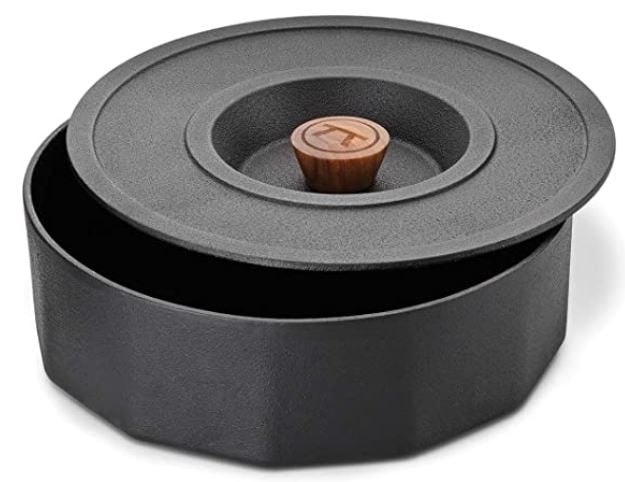 Features:
Multi-Purpose Pot
Hand-wash
Durable
Long-lasting performance
Pancake Flat jack Warmer Holder With Lid
This is one glossy white ceramic pancake flapjack warmer container holder with a ceramic lid that features black large letter LL font text that says "PANCAKES."
Designed to have a handcrafted look and perfect for holding some morning flapjacks warm and toasty, as a gift for the pancake breakfast lover in your life or just for display.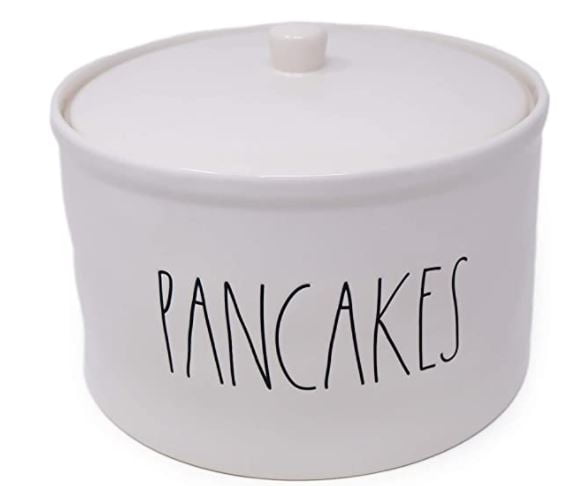 Features:
Dishwasher Safe
Ceramic pancakes holder with lid
How to keep pancakes warm
Toaster Oven Method
Keep a small batch of pancakes warm using the toaster oven. Follow the steps below.
Preheat your oven to 150 degrees F.
Position an empty baking sheet on the center rack.
Transfer your finished pancakes from the griddle to the toaster oven.
Situate each pancake you make on the baking sheet.
The toaster oven will maintain your pancakes warm until they're ready to serve
Tips
You have a maximum of 40 minutes worry-free to allow your pancakes to set down in the toaster oven. After that, they will start to dry out.
If your toaster oven is also a convection oven, turn off the convection setting if you can. The fan can cause your pancakes to dry out.
If you're unable to turn off the convection setting, simply lower the temperature by an additional 25 degrees F. Heating at 125 degrees F instead of 150.
Microwave Method
If you are cooking a small batch of pancakes, you can keep them warm in the microwave. Just follow the steps below.
Take a medium-sized bowl and fill it of the way with water.
Please place it in your microwave and heat the water until boiling.
Next, set down a large plate over the bowl and close the microwave door.
As you make your pancakes, place them on top of the plate inside the microwave. The steam from the bowl will keep your pancakes warm and moist until you're ready to serve.
Oven Method
If you want to ensure that the first pancake you make is just as warm as the last one, the oven is perhaps the most trusted method to keep your pancakes warm. Follow the steps below.
Preheat your oven to 200 degrees F.
Put down a wire cooling rack inside a baking sheet.
Place each pancake you make on the cooling rack.
At this temperature, your pancakes are safe and won't lose any moisture.
Tips
The wire cooling rack and baking sheet combination offers plenty of airflow and circulation, so the pancakes stay warm while preventing them from becoming soggy.
However, make sure you keep them in there no longer than 30 minutes, so they stay soft and fluffy.
Additional tricks on How to Keep Pancakes Warm
No matter the method you choose, make sure to keep your pancakes in one layer, never stacked. While it's true that stacking them can keep the heat in, it can also make the pancakes soggy after a while.
Warm your syrup up in the microwave for the ultimate weekend breakfast. You want both the pancake and the syrup to be warm.
How a pancake is cooked can also affect the taste and texture. When pouring your batter onto the griddle, don't put more than 1/3 cup at a time. You'll know it's ready to flip when it starts to bubble in the middle and its edges solidify. An overcooked pancake will result in a much stiffer pancake.
The foil will trap the steam inside, and this can cause your pancakes to become soggy and wet.
If you prefer Omelettes, you should learn how to keep an omelette warm and surprise your family on your next breakfast.