Don't you love pizza but hate when it goes cold! We hear you; nobody likes pizza when it's cold, but sometimes, for whatever reason, you can't eat it the right way, so what do you do? Do you probably start to wonder how to keep pizza warm? This is a serious question for many of us who won't do with cold pizza. So if you are like us, you'll need to learn how to keep pizza warm the right way for all your warm, delicious pizza needs.
Knowing how to keep pizza warm the right way is a skill you won't regret learning. Think about it; it can save you precious time, making life easier, especially during situations like being at a pizza party, where warm pizza is a must. You may think about it. First, it is a lot of work, but once you master the right steps, you'll find out it is definitely worth it.
So don't fret next time your pizza goes cold, instead learn different and effective methods to keep pizza warm and impress your friends and family with your skills in the kitchen. Keeping pizza warm is no rocket science. However, there are a few key tips and tricks that will make a huge difference. So keep your eyes peel and take note of the following guidelines to keep pizza warm.
How to Keep Pizza Warm FAQ's
How to keep pizza warm for a party?
Keeping food warm at a party can be tricky Often, food gets laid out in the open for who knows how long before consumption and with no real way to keep it warm. Here is what you can do:
If you want to keep pizza warm for 3 hours or longer, aluminum foil is a great method.
Wrap each piece individually in aluminum foil
Turn on the oven to 400 degrees Fahrenheit, and bake for 10 minutes.
Wrapping each slice in aluminum foil will help the pizza hold its heat. If the slices get cold when your guests arrive, pop the pizza, still wrapped in foil, into the oven at 400 degrees for around 5 minutes to 10 minutes. After it's heated, remove the aluminum foil and serve the pizza to your guests.
How long can I keep pizza warm in the oven?
If you opt to place your pizza in the oven to keep it warm, bear in mind not to leave it beyond three hours. The oven will keep the pizza hot for up to three hours. You can even put the pizza box in the oven if the temperature is low enough.
It is recommended to warm pizzas around 200℉ and if you want to use the box, keep it at 140-150℉.
How do you keep pizza warm without an oven?
Is your oven broken? Do not panic; you can still keep your pizza warm. Follow the steps below:
As soon as you take your pizza delivery, open the box and allow the steam to disperse.
Shut the box and make sure that the air vents are open.
Position the box with the pizza inside on a small blanket or heavy towel.
Then, fold the sides of the towel over the box, so it is completely covered. If you think you need more insulation, you can use two towels positioned at right angles to each other and then folded over.
How do you keep pizza warm at a picnic?
If going for a weekend picnic, you can bring your favorite pizza with you and enjoy it warm. To achieve this, your safe bet is to use an insulated bag.
Insulated pizza bags are made using water and heat-proof material and are insulated to keep food warm. The bags also feature interior grommets that release steam, helping to keep pizza dry but warm.
Wrap each slice in aluminum foil to retain heat without making the pizza base soggy.
Stack up the slices in your insulated pizza bag and bring them along on your outdoor adventure.
It fits most lunch boxes and can be folded without use. This large lunch bag is large enough to hold your lunch box, snacks, and fruits.
The lunch bag can be used with hot and cold food. The material can keep the food cold/hot. It can easily contain a bento box/juice box/sandwich box/water bottle/juice box and snacks.
This lunch bag is made of aluminum foil material. The function of keeping warm and cold can make the food you eat fresh enough.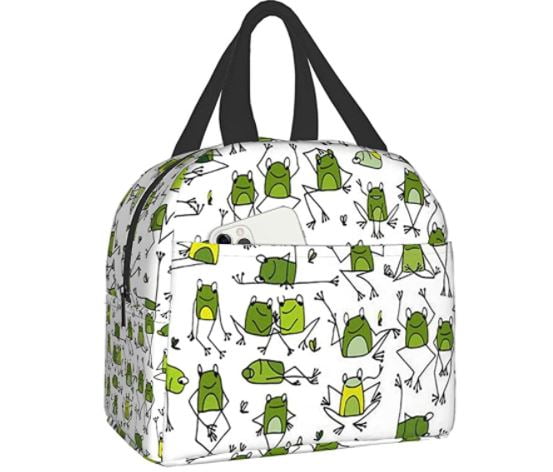 Features:
Large capacity
Strapless and heavy-duty zipper
Insulation function
How to Keep Pizza Warm
Method 1: Pizza stone
Place the pizza stone inside the oven.
Turn the oven to 200°F. And leave the stone for 30–40 minutes.
You've to make it hot enough to preserve the heat so that it can circulate when the pizza is on top.
Now place your pizza on it and turn off the heat.
Heritage Pizza Stone
These pizza stones for oven use pre-heat twice as fast as other stones, thoroughly cooking homemade pizzas in speedier baking times and producing crispier crusts. Plus, its tapered edge makes serving easy so that you can have pizza fast and fuss-free!
This superior baking stone is grease and burn resistant, coated in a non-stick glaze that prevents the dough from fusing to the base and creating a mess. Place in a room-temperature oven and preheat!
It also washes easily, so after a soapy sponge and rinse, your oven pizza stone will look as good as new.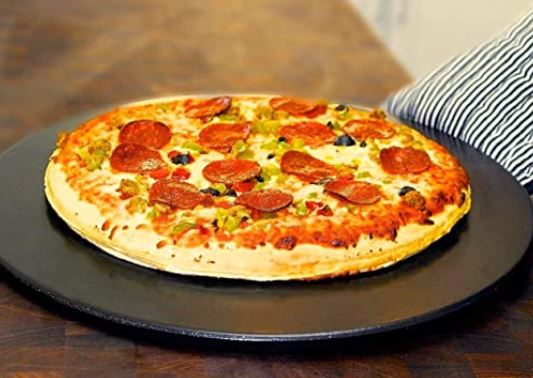 Features:
Durable
A baking stone is grease and burns resistant
Coated in a non-stick glaze that prevents the dough from fusing
Method 2: Skillet or frying pan
Place the pizza in the pan. Place the pan on a stove with high heat.
Heat it for 2 to 3 minutes. Your goal is to keep the bottom crispy. But avoid it from getting burnt.
Now change the stove to medium heat. Wait until the sauce gets warm, and the cheese melts.
If you're having trouble melting the cheese, you can put on a lid too. In that case, try to keep the head within medium to low.
Method 3: Microwave
Take a big microwave-proof dish for your pizza.
Put the slices on the dish. Remember to keep space in between. Could you not make them too close?
Fill a mug with some water. Place the mug nearby the dish or down the plate. The water will evaporate. This way the crust remains moist.
Set the power to 50 to 60 percent.
Heat in 40 to 50 s intervals. This way you'll have more control over the process.
Additional tips to keep pizza warm
If you plan on leaving your pizza in the oven for longer than one hour, place a cup of boiling water underneath the rack holding the pizza in the oven, and leave it there for five minutes. This will help keep the pizza warm and sufficiently moist.
To prevent harmful bacteria, keep food at a safe temperature of 140 degrees Fahrenheit or higher. Do not leave pizza out at room temperature for more than 2 hours.
Allowing the steam to stay inside the box is why home-delivered pizza often acquires that taste.
A pizza stone is made of pores. These pores can circulate constant heat. They have no residual smell too. They don't let the pizza go soggy.
As long as your pizza isn't larger than approximately 10 inches in diameter, you can always use tortilla warmers to keep your pizza hot.